FREQUENTLY ASKED QUESTIONS
Frequently asked questions
What is the best way to set up my computer when I'm taking a class or Private Session?
---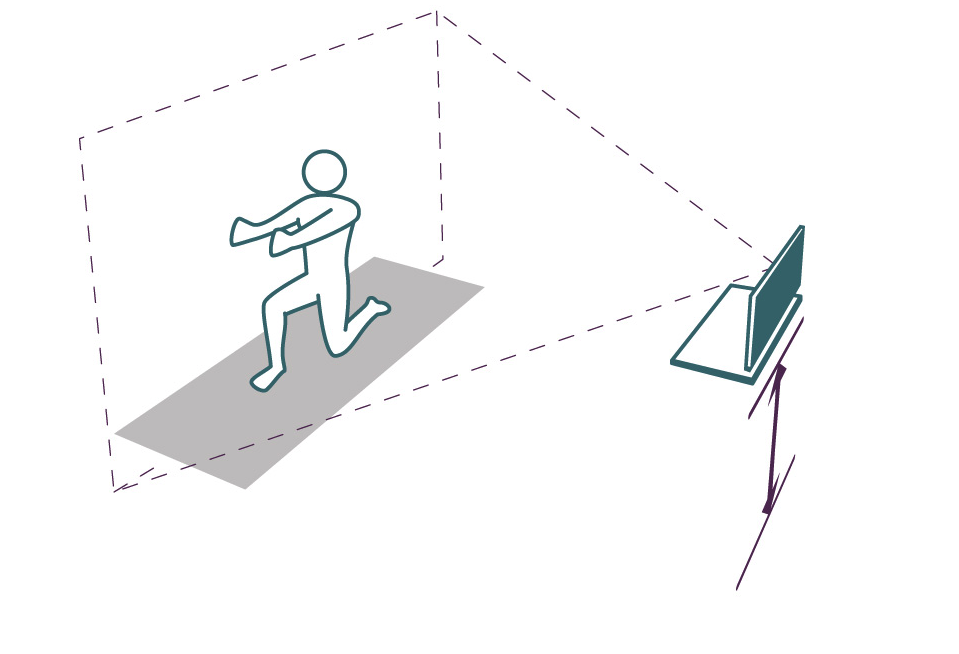 If at all possible, please set up your computer like this. Of course, I realize that this is not possible in all cases, so please just try to arrange yourself so I can see as much of your yoga mat as possible. When I can clearly observe you, it allows me to offer clear verbal assists and feedback. Thank you!
---
What if I'm new to yoga?
---
Fantastic! Welcome! I love having new practitioners in class, and my classes are for ALL LEVELS. I'll always offer modifcations for the more advanced postures. Just know that you are entering a safe, non-judgmental, super-supportive space, and I'm here to cheer you on!
---
What props do I need?
---
The email you receive one hour before class will mention the props you need for that particular flow. Other than a yoga mat, towel, and water, most yoga props can be created with things around the house if needed. In place of a yoga strap you could use a scarf or tie. Although it's difficult to replace actual yoga blocks, thick books (like dictionaries) or large tupperware containers can work well. For Restorative classes, it's helpful to have two equally-sized pillows. For Yoga Sculpt, bring a light set of weights, if you have them. If you don't, no worries at all, you can use any extra resistance that you have around the house - many people use soup cans, bags of rice, or (my favorite!) empty or full wine bottles. That being said, you can do the whole class with no weight at all, and it will still be a great workout!
---
Do you watch me the entire time, or do you take class with me?
---
Most of the time I use a hybrid approach - that is, sometimes I'll be flowing along with you, while other times I'll be right up at the camera looking at the Gallery View in Zoom to offer verbal assists and feedback. I have my computer hooked up to my big TV, so even when I'm on my mat doing the class with you, I can see you quite clearly.
---
Do I have to have my video on?
---
It's totally your choice to have your camera on or off. Having your video on gives me the opportunity to offer you some verbal assists, and also adds to our sense of community. Of course, I totally understand if you'd like to practice in private with no video, so just do what feels right for you.
---
How early should I show up for class?
---
I'd love to say hi to you before class starts! I start class right on time, so I would suggest arriving about 5 minutes before so you can settle yourself, let me know how your are feeling, and to connect with the other people in our community. I'll open the Zoom room about 10 minutes before class starts. You will be muted upon entry, but please feel free to unmute yourself to chat or ask a question! I'll also stay on after class if you need to touch base with me about anything. If you happened to be running late, no worries, I always leave the Zoom waiting room open, so you will be able to enter and join the class in progress.
---
What if I have a question during class?
---
I love questions! Most likely, I won't be able to answer them during class, but feel free to write them in the chat box, or keep them in your head, and I will gladly stay after class to address them. Chances are, your question could benefit other students, so ask away!
---
May I follow you on Spotify so I can listen to the music you play in class?
---
Gladly! Click here to go to my Spofity profile and feel free to follow me there!
---
How do I register for class once I have an All-Access Membership or Package?
---
To register for a class after purchasing a membership or class pack, simply click 'Sign in' at the top corner of the check out page, and add your email and password.
---
---